secret chiefs 3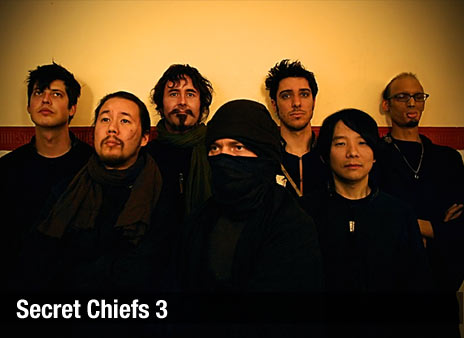 Nothing is true, everything is permitted.
— Hassan-i-Sabbah
Legend has it that 11th Century Persian sheikh Hassan-i-Sabbah inspired fanatic, even suicidal, devotion from his legions. His method of initiation was to kidnap and drug his foes' fiercest soldiers, then bring them to his fully functioning Garden of Earthly Delights, which was complete with exotic delicacies, fountains of wine, and good-to-go virgins. When his captives came to, dazed and suggestible in their psychedelic stupors, they were told they had died and entered heaven. Sabbah had only to promise that each of his subjects would return to Paradise if fortunate enough to martyr himself in his service. For a century, Sabbah's Hashishim — "Hash Eaters," from which we derive the word assassin — were the most feared killers in the known world.

It seems that Sabbah and Trey Spruance have something in common. Spruance, Secret Chiefs 3's chief composer and a former guitarist for Mr. Bungle, is a visionary madman capable of instilling both fear and respect in his listeners. Secret Chiefs 3 have existed in various incarnations over the course of the past eight years, and have served as the funnel for Spruance's remarkably far-flung studies of the hermetic mysteries and musical traditions of unknown and underappreciated subgenres. Album titles like Grand Constitution and Bylaws and Book M hint at the music's vaguely metaphysical bent. Over three years in the making, Book of Horizons is Secret Chiefs' most expansive and coherent statement, an alchemical fusion of Morricone-esque cinematic grandeur, midnight surf guitar, traditional Middle Eastern rhythms and time signatures, demonic death metal, and electronic deviance that yields a work of undeniable force.

The album seems to develop a more acute, galloping schizophrenia as it progresses. The opening quartet of tunes — each attributed to a different sub-group of Chiefs — moves from solemn to wanton: "The End Times," with plaintive bowed saw and string section, moves to the black-market Bollywood funk of "The 4" by Ishraqiyun, which, after a brief, eerie dub interlude, bleeds into to the brutal screamfest "Exterminating Angel" by the Holy Vehm. Though the variance is great between the songs, each stays within the format of its genre.
That respect to structure unravels quickly and intoxicatingly in the album's midsection. As the cast of players rotates, so do the names of the ensembles — a narrative touch that lends Book of Horizons an epic feel. Common threads like copious strings and exotic percussion provided by William Winant (Thurston Moore's go-to skins man), Shazad Ismaily (Brian Eno, Elysian Fields), and Phil Franklin (Sunburned Hand of the Man) maintain some semblance of order. By the time "The Owl in Daylight" appears — sweeping from creepy electro grind to soothing acoustic guitar and chimes — and the hallucinatory beachfront kasbah groove of "On the Wings of Haoma" by The Electromagnetic Azoth takes flight, unpredictability has taken the reins. Potentially the album's pivot point, UR's "Book T: Exodus" is a remake of the Exodus movie theme, incorporating immense string and horn ensembles created purely through meticulous overdubs. It's a gorgeously orchestrated moment that wouldn't be out of place in the closing credits of a 1970s Godzilla flick.

As the album nears its close, two of the final pieces move through so many styles that trying to peg them all would be impossible. The titles speak for themselves: "DJ Revisionist (The Spin Masta, Kultur Killa, with da Mad Crypto-Colonial Skillz)" and "Anthropomorphosis: Boxleitner" are exercises in new wave Middle Eastern electro freak lullaby majesty. This is the kind of music that really must be heard to be understood, bound by a surreal logic both ridiculous and unforced; a true accomplishment, indeed.

Whether or not Spruance and his Secret Chiefs 3 are the intermediaries between heaven and earth is, um, hard to say, but with Book of Horizons it seems they're certainly communing with a power beyond the merely human. Virtuosity, paired with a fearless love of divergent styles and the humor and talent to skillfully, unmercifully mash them up, pushes this album into rarified heights. Bungle's major label connections and early association with John Zorn have given them a mainstream exposure that Secret Chiefs 3 will probably never receive. But Spruance's mongoloid baby is a golden child, effortlessly balancing aplomb, apocalypse and apoplexy to create a truly daring, mystifying journey.
— Jonathan Zwickel, June 15th, 2004
Future performances by this artist:

| | | | |
| --- | --- | --- | --- |
| date | venue | location | details |
| 05/11/2007 | Fowlers Live | Adelaide AUS | |
| 05/12/2007 | East Brunswick Club | Melbourne AUS | |
| 05/13/2007 | Corner Hotel | Melbourne AUS | |
| 05/15/2007 | The Factory | Sydney | |
| 05/16/2007 | The Factory | Sydney AUS | |
| 05/17/2007 | Cambridge Tavern | Newcastle AUS | |
| 05/18/2007 | A & I Hall | Bangalow AUS | |
| 05/19/2007 | Coolangatta Hotel | Gold Coast AUS | |
| 05/20/2007 | The Zoo | Brisbane AUS | |
| 05/26/2007 | Troubadour | Los Angeles CA | |
| 05/28/2007 | Aladdin Theater | Portland OR | |
| 05/29/2007 | Neumo's | Seattle WA | |
| 05/30/2007 | The Nightlight | Bellingham WA | |
| 05/31/2007 | The Plaza | Vancouver BC | |
| 06/01/2007 | W.O.W. Hall | Eugene OR | |
| 06/03/2007 | Great American Music Hall | San Francisco CA | |

For other artists, see the Calendar.
Book of Horizons
(WoM 014) - 2004

The epic brand-new release boasts years of work, orchestral-scale compositions, huge laborious production with intricate counterpoint as well as beautiful, simple monophonic texturings, tons and tons of instruments from all over the world, and the corresponding musicians who go with them...

What does this all end up sounding like? You will hear a kick-ass surf band playing in Arabic/Persian tunings, and then switch over to a wall of Penderecki-style orchestral chord clusters accompanied by AC/DC. Then, perhaps the traditional sounding, pseudo-folk Turk/Central Asian imaginal band will hit center stage with Dhol, Saz, Rabab, Esraj and rock drums and start whacking out to the original, catchy songs that no one knows or cares are in 19/16 time. This might be followed by a totally pummeling, nightmarish, not-kidding one bit blast-beat Death Metal band that employs Boulez-ish atonal serialism, played in dastgah tunings, which of course will naturally segue into a band that specializes in Hindi Film Music from the second Golden Era... you get the picture. We're scratching the surface here, not exaggerating. And again, it's no joke.

FORMS / The End Times [mp3]
Ishraqiyun / The 4 (Great Ishraqi Sun)
Traditionalists / The Indestructible Drop
Holy Vehm / Exterminating Angel
FORMS / The Owl in Daylight
Traditionalists / The Exile [mp3]
The Electromagnetic Azoth / On the Wings of the Haoma
UR / Book T: Exodus
Holy Vehm / Hypostasis of the Archons
Traditionalists / The Electrotheonic Grail Dove
Ishraqiyun / The 3
The Electromagnetic Azoth / DJ Revisionist [mp3]
UR / Anthropomorphosis: Boxleitner
FORMS / Welcome to the Theatron Animatronique

Book M
(WoM 006) - 2001

"From what was originally a trio, this third studio release from Secret Chiefs 3 employs some of the most adventurous arrangements this year. Book M is suffused with oddly cinematic sounds that frustrate all preconcieved notions of what 'contemporary' music should sound like - for instance, no lyrics. The whole frontman idolatry cult could not possibly exist here. The group has been transmuted: base lead vocals into golden instrumentation. Driving, disjointed breakbeats, ripping melodic sitar/guitar, traditional middle-eastern folk music gone metal, drifting electronic miasma, violin/cello/viola that lend a graceful cohesiveness. If this band were any heavier, California would be underwater. All at once commanding and impossible to categorize."
- Kris Thor, hE@D magazine

Knights of Damcar
Hagia Sophia
Vajra
Ship of Fools (Stole of Exile)
Horsemen of the Invisible [mp3]
Combat for the Angel [mp3]
Zulfiqar III [mp3]
Siege Perilous
Dolorous Stroke
Blaze of the Grail
Lapsit Exillis
Lapis Baitulous
Safina [mp3]

The musicians (Details in the liner notes) :
Fatima - santur
Timb Harris - violin, viola
Danny Heifetz - drums, dumbek, riq, zils, zil stick
Eyvind Kang - violin
Bär McKinnon - saxophone
Shamou - darbuka, riq
Jason Schimmell - cumbus mandolin, acoustic guitar
Tim Smolens - bass, contrabass, cello
Trey Spruance - guitars (acoustic, electric, microtonal,12-string), cumbus baglama, electric sitar, saz, tar, dumbek, zither, keyboards, electric piano, organs, bass, percussion, trumpet, programming, electro, sampler
William Winant - concert toms, frame drum, cymbals, bass drum, zil stick, ankle bells



Eyes of Flesh, Eyes of Flame
(WoM 002) - 1998

Recorded live at their performance at Slims in San Francisco on August 18, 1998, this CD features the 1998 touring incarnation of Secret Chiefs 3, Trey Spruance, Danny Heifetz, Eyvind Kang, Bär McKinnon, Phil Franklin, and John Wayne Law.

Adept Chamber of the Magian Tavern,
Inn Of Three Doors,
Theme from 23d Nade,
Inn of Three Doors,
1/41/41/41/41/4,
Combat for the Angel,
Theory of the Supreme Ones,
Mary of Magdalen
Renunciation
Jabalqa/Jabarsa
Rose Garden of the Mystery
Assassin's Blade
Zulfikar
Ciocarlia

Second Grand Constitution and Bylaws: Hurqalya
(WoM 004) - 1998

"...Like its predecessor, the music is a combination of Ennio Morricone movie scores, world music, experimental noise-rock, and heavy metal. But this musical mix is used in an extremely unorthodox and unpredictable way... Due to the all-encompassing vision of Second Grand Constitution, it becomes obvious that a lot of work was put into it, and the end result is one of 1998's most rewarding, original, and ambitious recordings."
- Greg Plato, All Music Guide

The Rose Garden of Mystery [mp3]
Book T: Waves of Blood
Book T: Broken Glass Hearse
Renunciation [mp3]
Jãbalqã [mp3]
Book T: Orbital Ballroom in the Hall of Resurrection [mp3]
Mera Pyar Shalimar
Zulfikar II (bonus track)
Jãbarsã
Beyond the Mountain Qaf
Hurqalya



First Grand Constitution and Bylaws
(WoM 003) - 1996

"Music for those weary of the mainstream."
- Greg Plato, All Music Guide

Ana'l Raqq
Adept Chamber of the Magian Tavern – Altar to the Master Chief
Inn of 3 Doors
Breeze of Dawn, Death's Angel
Assassin's Blade
Bare-faced Bazi
Crossroads Through Crosshairs
borderland
borderland
Killing of Kings
Celestial Ship of the Corsairs
Emir of the Bees (bonus track)
Pointed and Weighty Arguments
Zulkifar
The Qa'im Deliberates
Drunk at the Gates
Resurrection Day Sountrack: Hot Pursuit in Eagles' Nest
From Night the Morning Draught of Wine
Crosswinds
borderland
White As They Come



Zulfikar II & Zulfikar III
(WoM 001) - sold out

"This is an amazing piece of work. Each side is a mix of Zulkifar from 1996's "First Grand Constitution and Bylaws" record. The first mix is very reminiscent of Murray Head's "One Night in Bankok" from Chess. It is full of nice eastern melodies over smooth synth beats not unlike those which backed Cameo's smash "Word" up. The flipside features a more heavily techno interpretation of the track. the beats are strong enough to make them welcome at just about any club. this slap of red vinyl is well worth picking up..."
– Review, The Fritz magazine